Yes, if you want professional results!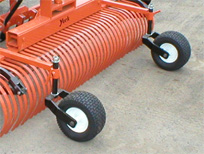 As with any three-point hitch implement it is virtually impossible for it follow the grade relying solely on the three-point hitch of the tractor. Trying to follow the grade by constantly adjusting the three-point hitch can be tedious, if not impossible. They are just not designed to do this. Using this method also results in the implement doing the exact opposite of the tractors front wheels. As the wheels go in a hole, the implement comes off the ground and as they ride over a high spot, the implement digs in.
You have to be pretty quick on the three-point hitch lever to avoid this. Using an implement with caster wheels allows it "float" independently behind the tractor while following the contour of the ground. This is particularly important when you get to the raking stage of your site work. The best raking results will be achieved with the rake angled and the caster wheels properly adjusted. When raking you want to adjust the caster wheels in the following manner. With the rake angled, you want the caster wheel closest to the tractor higher (off the ground); this allows it to penetrate a little more. The caster wheel farthest from the tractor should raise the rake so it is barely touching the ground. The difference in wheel height only needs to be about an inch, more if the soil is really soft and you want to screen more material. This adjustment allows the end of the rake closest to the tractor to dig a little harder than the end further from the tractor. This increases the vibrating action of the rake teeth improving the rakes screening action as the material moves across the front of the rake.
Rocks and debris will move into a windrow and the pulverized soil will pass between the rake teeth. Remember too, the faster you can go the better the vibrating action will be. The resulting screening action from a properly adjusted pair of caster wheels produces an ideal finished surface, ready for seeding or sod. Caster wheels are also essential for beach cleaning work, as they will help keep the rake from digging in too deeply.
Give York a call to learn more about equipping your York Rake
with caster wheels. 1-800-643-YORK (9675)