YORK RAKES, ONE OF THE EARLIEST SKID STEER ATTACHMENTS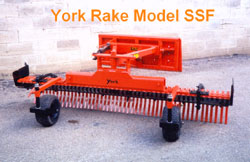 By the time the first skid steer rolled out some 47 years ago YORK had been turning 3-point hitch tractors into versatile landscaping tools for nearly 36 years. Almost from the beginning skid steer owners began "adapting" 3-point hitch YORK RAKES to their machines. Since those early days YORK has developed the Model SSF, a landscape rake specifically designed for use on skid steers. More recently YORK has developed two different types of rotary brooms for use as skid steer attachments.
YORK's entry into the true skid steer attachment market began with our Model SSF. The SSF comes equipped with a universal mounting plate. YORK also offers many other mounting plates to fit a wide variety of skid steers. The SSF rake section can angled to discharge material right or left. If the operator prefers the rake section can reversed to either push or pull material. Rakes sections are available in six, seven or eight foot widths. Five different working positions, not to mention float can handle almost any landscaping or maintenance job. When equipped with optional caster wheels, grader blade and end boots the Model SSF will make any skid steer a more versatile and valuable tool!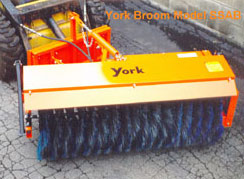 The YORK SSAB BROOM (skid steer angle broom), mounts directly to your skid steer using the same universal mounting plate as the SSF. The SSAB is hydraulically driven, and requires 10-15 GPM at 1800-2250 PSI. The broom maybe angled to a maximum of 30 degrees left or right. The manual angling feature maybe converted to hydraulic operation by replacing the control arm with a standard 10" stroke cylinder. Optional equipment includes storage stands to protect the broom during maintenance and storage, deflectors to protect the operator from dust and debris and a sprinkler system for added dust control. The SSAB is available in 6', 7' and 8' broom widths, using 32" diameter convoluted brush sections. Brooms may be equipped with either all polypropylene, crimped wire or a 50/50 combination brush sections.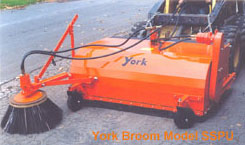 The Model SSPU BROOM (skid steer pick up broom), is hydraulically driven, and requires a hydraulic system of 10-15 GPM and 1800-2250 PSI. Unless otherwise specified the SSPU is equipped with a universal mounting plate as standard equipment. The bucket is constructed of 3/16" steel and has ½" wear bars on the bottom for longer bucket life. The heaped bucket capacity is approximately 16 cubic feet on the 5' model and 19 cubic feet on the 6' model. The caster wheels, a standard feature on the SSPU, make this broom much easier to operate. The SSPU is available in 5' and 6' widths, equipped with 24" diameter brush sections. Brooms may be equipped with either all polypropylene, crimped wire or a 50/50 combination brush sections. The optional gutter brush allows the operator to get into those hard to reach spots. If dust control is an issue the optional sprinkler system is the answer.

Built with a commitment to quality and rugged detail you can rely on YORK products to make you and your skid steer more productive and profitable.